Jet Ski Ride
Jumeirah Beach Residence
Your Beach Fun Starts Here!
Sky & Sea Adventures offers an unmatched range of water sports and leisure activities for those water enthusiasts seeking discovery and exploration along with families looking for an exciting vacation.
Discover;
Parasailing, Jet ski, Scuba Diving, Donut Ride, Fishing
Parasailing, Watersports, Jetski, Fly Fish, Flyboard, Fishing trips, Scuba Diving, Jetski Safari, Daily Scuba Dives, banana ride, donut ride, flyfish ride, boat cruise, daily boat cruise, dubai marina, jumeriah beach residence, what to do at beach in dubai, summer breeze, adrenaline, wet fun, 
Parasailing
10000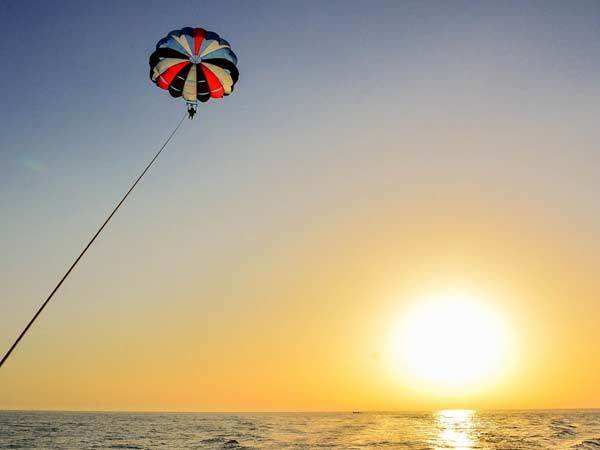 Parasailing is a recreational activity where a person (two, three and more people may also ride at the same time) is towed behind a boat while attached to a parachute. A harness attaches to the parasail, which is connected to the boat. The boat then drives off, carrying the passenger into the air. The passenger has no control over the parachute. The activity is primarily a fun ride.

Parasailing is alive and well and once you experience the exhilaration, you might just get hooked!

The adventure of skydiving with a lot less fear: For those of you who think of jumping out of a plane on purpose and think ARE YOU KIDDING, parasailing gives you the same sense of flying through the air without the terrifying pressure of falling towards the ground.
The view:There's nothing else like it. A literal bird's eye view, without the buzz of an airplane deafening you. You can see from the coast to the horizon as you float along behind the boat, peaceful and calm, entirely at ease. You get to experience the world from high above, seeing a bigger scale than many people manage in their lifetime. There's nothing else like it.
Did we mention the flying? Until science invents new technology, you won't get closer to flying. No tin can around you, no uncomfortable level of noise. Just you, and the sensation of floating through the air, free and clean.