Sky & Sea Adventures offers latest and classical watersports motorized activities such as Parasailing, Donut Ride, Banana Ride, Fishing, Flyboard, Fly Fish, Water Ski, Wakeboard, Jet ski and many others. All you have to do is visit our one of the branch and enjoy the beach with maximum adrenaline.
Sky & Sea Adventures offers the latest motorized water sports activities with the latest equipment and boats. We strive to make your beach time unforgettable and to put a smile on your face. We provide Parasailing, Flyboard, Tornado Ride, Banana Ride, Donut Ride, Jet Ski, Water Ski, Wake board, Fishing, fly fish and Luxury and Daily Boat Cruises
Fly Boarding 30 min
10007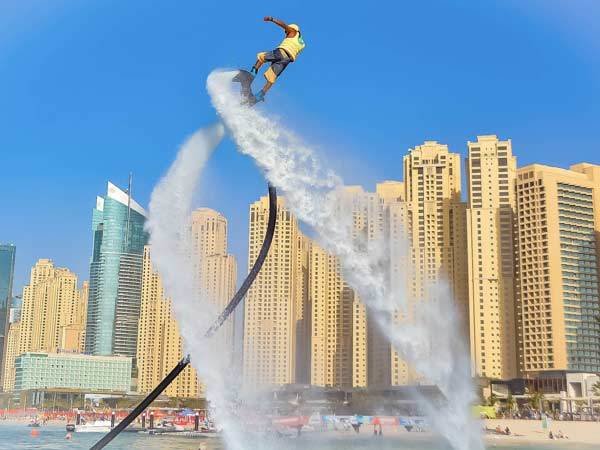 Fly-board is the newest action water sport in the area! A fly-board is a foot mounted board which is connected to a personal watercraft (jet-ski) via a 18 mt hose. The output which would usually propel the watercraft is redirected to two jets on the bottom of the fly-board, creating lift. Our trained, professional fly-board operator will be controlling the throttle of the wave runner, so all you have to do is fly!
Who Can Fly?
Anyone 15 and older can have a great time fly-boarding.
Our certified instructors are professional FlyBoarders and have experience. They're always prepared and excited to teach new riders of all levels. Just bring along your sense of adventure and we'll do the rest.