Scuba Diving
Make Bubbles Underwater in Amazing Dubai!
Discover Moon Island Underwater.
Parasailing
Parasailing is Amazing! Flying is More Amazing! Discover Beautiful View of Dubai
Fly Fish
Ride a Wild Horse On The Sea to Pump Up Adrenaline!
Best for Adrenaline Seekers!
Flyboard
Enjoy The Newest Activity in Watersports Industry.
Flyboard is much more challenging than you might think.
Boat Cruises
Discover Amazing Scenery of Dubai!
Enjoy Thrilled Moments With Your Firends.
Banana RIDE
Challenge To Stay On Banana, Amazing Activity For Family & Friends On The Beach!
JET SKi RIDE
Enjoy Jet Ski Riding on Beach for Adrenaline Boost!
Donut Ride
The Best Way To Spend Time With Family & Friends On The Beach.
Your Beach Fun Starts Here!
Sky & Sea Adventures offers an unmatched range of water sports and leisure activities (Parasailing, Jet-ski, Scuba Diving, Donut Ride, Fishing and many more) for those water enthusiasts seeking discovery and exploration along with families looking for an exciting vacation.
Parasailing, Watersports, Jetski, Fly Fish, Flyboard, Fishing trips, Scuba Diving, Jetski Safari, Daily Scuba Dives, banana ride, donut ride, flyfish ride, boat cruise, daily boat cruise, dubai marina, jumeriah beach residence, what to do at beach in dubai, summer breeze, adrenaline, wet fun, 
Fly Fish 15min
10002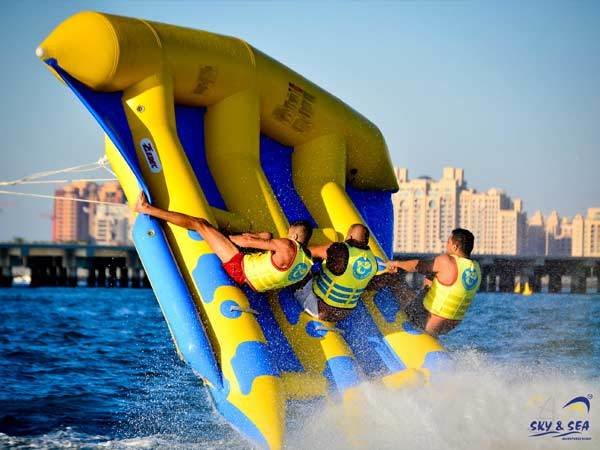 Fly Fish is the one of marine sport activity, by riding a flat rubber boat which is pulled by a speed boat. It flies to dash against the wind sweeping that it real fly on the seawater. It is a great adventure by flying like fish jumping on the seawater with high boat speed. You will enjoy the attractive adventure like Fly Fish with the professional Fly Fish Guide who accompany you on each flying and the high quality safety equipment that ensure your experience are memorable one.
The specific design of this kind of device causes that the boat's speed added to the wind force and the waves it comes out of the water making big jumps, like a flying fish, which gives him the name…. Discharge the adrenalin with an exiting activity you can share with your friends and
you will never forget!




Min 2 guest required.